Jennifer Mirus Elected as Chairperson of Executive Committee
Boardman Clark recently named Attorney Jennifer Mirus as Chairperson of the firm's Executive Committee. The role, previously held by Attorney Richard Heinemann, is the firm's foremost leadership position.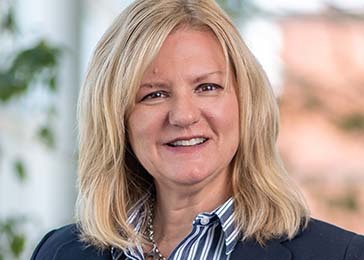 "It has been a privilege to practice law at Boardman Clark for more than 27 years and I look forward to this opportunity to help the Firm achieve its goals in serving its clients and the community," Jennifer says. "I am excited and proud to be the first female Chair, and would like to thank Richard for his years of leadership and hard work in this role."
Jennifer is also Co-Chair of the firm's Labor & Employment Practice Group and will continue to actively represent clients. In her legal practice, Jennifer represents employers in all aspects of employment relations, including wage and hour issues, discrimination, Family and Medical Leave, ADA, reductions in force, harassment, hiring, discipline and terminations. She is also a sought-out speaker on human resources issues.
"Jennifer is a natural leader and a true people person," added Heinemann. "She brings the same thoughtful approach she applies in her practice to her role on the Executive Committee – she is an excellent choice to lead the firm moving forward."
Boardman Clark's Executive Committee is the governing extension of the Firm's partnership. The Committee is responsible for maintaining the firm's long-term vision as well as overseeing decisions related to day-to-day operations.
In additional to Jennifer's transition to Chair, Doug Witte has been named to the Executive Committee. Doug is Co-Chair of the firm's School Law Practice Group, is also a member of the Labor & Employment Practice Group and has over 30 years of experience representing private and public sector employers in all aspects of labor and employment law. Doug joins Sarah Zylstra, Jennifer Mirus, Pat Neuman and Richard Heinemann on the Executive Committee.